Well, its Friday which means that your friends here at Dreadful Tales have another edition of Free Fiction Friday.  Enjoy!
I know we've mentioned it a few times but, WE LOVE JEFF STRAND!!!!!!!!!!  Jeff currently has a free story on his site called, The Drop. The Drop illustrates exactly what Jeff's "Gleefully Macabre" is all about.
If you are a regular reader of this site, you know that I absolutely love Bizarro which means I am a regular over at BizarroCentral.com.  (Almost) Every Friday they have a free piece of flash fiction from a different author.  The authors range from heavy hitters like Andersen Prunty and Cameron Pierce to extremely talented up-and-comers.  If you've ever been curious about this amazing sub-genre, this would serve as a great introduction.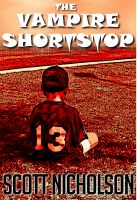 Scott Nicholson has a free story up on Amazon and Smashwords.  The story is called The Vampire Shortstop.  This is what Scott has to say: "It was an international Writers of the Future award winner in 1999. You don't have to like baseball or vampires–it's about a misfit kid looking to belong. I hope you enjoy it!"