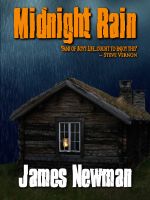 There is something special about youth- it drips with endless possibility and unbridled innocence.  Unfortunately, those emotions are also quickly forgotten as we grow older and the world becomes a little less mysterious.  I guess this is why there is so much literature out there that just can't seem to capture the true magic that is "growing up".  Authors seem to tell the tale of a child through the eyes of an adult without ever really tapping into the essence of childhood which is the reason I always approach a coming-of-age story with a small degree of skepticism.  These were the feelings I had when I first picked up James Newman's Midnight Rain.  Luckily, those feelings quickly vanished as I was sucked into a story that should be in the conversation whenever the best coming-of-age stories are discussed.
From Amazon.com:
Do you remember the exact moment your childhood ended?
1979. Jimmy Carter is elected America's 39th President. New York police apprehend the "Son of Sam," and the King of Rock n' Roll has permanently left the building. In a town called Midnight, North Carolina, twelve-year-old Kyle Mackey couldn't care less about any of that. He has his own problems to deal with, as he ventures toward a strange new world called manhood…
Kyle's older brother Dan is going away to college. Several years ago their father was killed in Viet Nam, and Mom is an alcoholic devoted more to the bottle these days than to her family. Kyle has never felt so alone. The night before Dan's flight leaves for Florida, Kyle visits what he calls his "Secret Place." All boys have a Secret Place, he believes, and his is an old shack in the woods bordering Midnight. Kyle's love for his secret place is shattered, however, when he stumbles upon something that proves his favorite spot in the world is neither as private nor as innocent as he once thought…
It begins with the naked, battered corpse of a young woman. And, standing over her, a man Kyle knows…
Kyle's story leaves no emotion untouched.  The reader will experience it all as he grows up before our eyes, dealing with the departure of his brother, his mother's addiction, the loss of his father and, of course, the understanding that those who are sworn to serve and protect may be worse than those they arrest.  There will be times where the reader will have to put the book down because you will find yourself ripped raw on an emotional level.  This is some very serious material here, folks.  Interspersed between the emotional peaks and valleys is the story of a young boy finding out who he really is.  These touching moments where Kyle expresses ignorance toward a topic (sex, drugs) are what added the authenticity to the story.  This is what separates Midnight Rain from many of its peers.
What makes Midnight Rain so special is its ability to rely on the magic of youth without incorporating any supernatural elements.  Sure, I love IT and A Boy's Life but both of those novels rely heavily on the supernatural to progress their tale.  Not Midnight Rain, no sir.  Newman allows the beauty of childhood to take center stage as he tells this wonderful story.  There are no witches and monsters.  No, there are only people who have let the evil take control of their souls.  This is what makes Midnight Rain so damn frightening.  We all had these people who occupied dark places in our childhood. They were those people that we, as children, assumed were capable of unthinkable evil and Newman brings them to life with chill-inducing authenticity.  Hell, I remember my next door neighbor who I swore was trying to kidnap me (he was a 72 year old man, by the way) and I saw a bit of him in the sheriff.  Newman has the ability to tap into those primal and, yes, juvenile feelings and bring them back to the surface of our conscious.  Ultimately, this is Midnight Rain's greatest accomplishment.
Newman paints the nuances of Midnight with masterful strokes.  The town comes to life before our eyes as Newman guides us through the dreary weather on a private tour of this seemingly quant little town. His descriptive prowess ranks among some of the best currently working in the genre today.  The prose was so powerful that I could feel my clothes becoming saturated as I spent more and more time in the rainy little town of Midnight.  Making Midnight appear to be normal and welcoming is what, ultimately, made the realization that no town is "ideal" so much more jarring.  It was a trick that was pulled off perfectly thanks, again, to Newman's skill and command of language.
This generation of authors grew up reading coming-of-age stories that used the late fifties and early sixties as their backdrops.  These new  authors are now telling the same types of stories but they are taking place in the late seventies and early eighties, which delights this reviewer to no end.  Although the tales from King, McCammon and Bradbury are the gold standard for this subgenre, having writers like Newman spin a yarn (which is every bit as powerful as its predecessors) speaks to me on a much more personal level.  This book has single handedly restored my faith in the future of coming-of-age tales.  Bravo, James Newman!